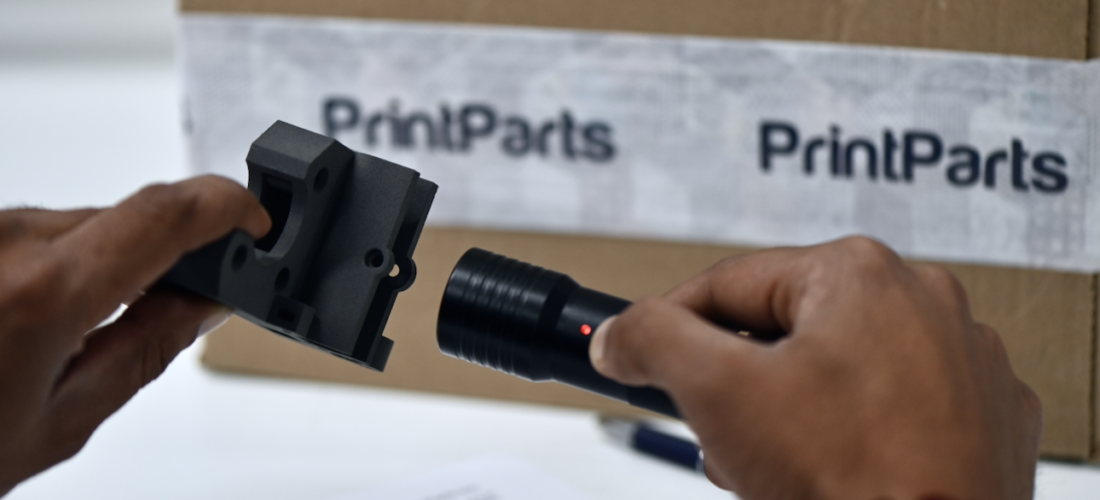 PrintParts Inc., a  New York City-based additive manufacturing service and technology provider, announced it has begun shipping the industry's first SmartParts to select production customers.
Earlier this year, PrintParts announced the development of SmartParts, a new authentication and traceability solution for additive manufactured parts. The integrated solution combines hardware, software, and materials to embed a scannable signature within each part. SmartParts introduces a new way to manage AM processes and trace parts throughout additive supply chains. This marks an important step forward for companies looking to use AM for production parts that require full traceability or certified materials.
"Many of our customers are looking to adopt additive for production, but have legitimate concerns around verifying materials, managing suppliers, and how to authenticate manufacturing data," said Robert Haleluk, PrintParts CEO. "If our industry wants to move further into production applications, we need to introduce technology that solves these problems and provides the security, as well as traceability, that companies expect."
PrintParts operates more than fifty 3D printers, across five additive technologies, to produce production parts, on-demand for their customers. The Company has the largest fleet of Formlabs Fuse 1 systems, which are now being used to supply SmartParts in Nylon PA11 and PA12 materials. PrintParts has successfully produced SmartParts using various additive technologies and is now taking steps to offer their customers SmartParts as a service. Participating customers will be able to verify PrintParts as the supplier, verify materials used within their parts, and ensure additive parts conform with manufacturing specifications.
PrintParts will be demonstrating its SmartParts solution at Formnext in Frankfurt, Germany, November 16-19, at booth 12.0 B81B.
Learn more about SmartParts: SmartParts.com

Read 3D Printing Industry's Story: PrintParts Ships Its First Set of Traceable 3D Printed SmartParts
About PrintParts Inc.
PrintParts Inc. offers advanced manufacturing solutions using additive manufacturing. Headquartered in Manhattan, PrintParts operates in the heart of New York City and online at PrintParts.com with a mission to help more customers print parts on demand at a fraction of the cost. The company's manufacturing services include prototyping and production of industrial-grade parts for end-use applications using a wide range of additive technologies and materials.
Press Contact:
Aundera Schroder
Phone: (806)382-7765
Email: aundera@printparts.com